Submarine Medulin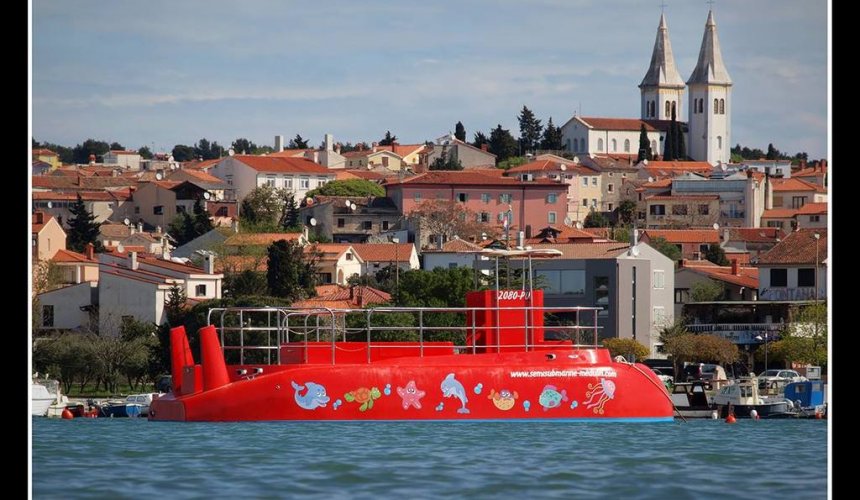 Experience Medulin area in a semiSUBMARINE!
Your vacation in Istria can now be rounded by undersea sightseeing of Medulin bay. During the semiSUBMARINE ride you will encounter the rich undersea fauna and flora world of the beautiful Medulin landscape. It is a unique experience for the whole family – breath-taking panoramic sights and the excitement of exploring the undersea world of the Adriatic coast. The semiSUBMARINE offers you a feeling of cinema projection under the sea by looking through a glass wall into the biggest aquarium of the world. The Big Blue will be at the reach of your hand. The semiSUBMARINE looks just like a real submarine, but its interior is designed for guests to experience both the underwater world and the world from above the sea. We also offer you an exquisite attraction of a night ride with underwater lighting. Climb aboard the semiSUBMARINE as one of our twelve passengers and experience this unique underwater adventure!
TRIP DESCRIPTION: The semisubmarine departs from the beach of the Hotel Holiday and the experience lasts 45 minutes. Your adventure starts with leisurely cruising though the Medulin bay. At any time during the cruise, you can descend only a few steps and find yourself in the underwater cabin where you can experience the spectacular undersea view behind the boat's glass windows. Every trip is unique experience because semisubmarine sails at a constant speed, slowly enough that you have a chance to see all the details and the sea creatures that make the coastal Adriatic so intriguing. And when you want to leave the underwater world, it's just a few steps up to enjoy the sun and gorgeous views of Medulin bay landscape.
PRICES PER PERSON:
90kn adults (12 €)
60kn kids from 2 to 10 years old (8€)
* kids under 2 years old - free ride
INFORMATIONS: Navita Decorum d.o.o., Centar 140, Medulin, tel. +385 (0)99 22 33 440, navita.decorum@gmail.com, www.semisubmarine-medulin.com , www.facebook.com/PoluPodmornica.Medulin